Danijela Zajc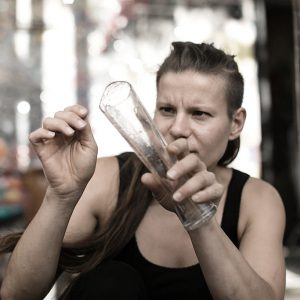 Danijela Zajc (1985) is a performer, mentor and organizer of the festivals, workshops and other events. She accumulates knowledge of contemporary circus and aerial acrobatics with Branko Potočan, and in many workshops at home and abroad with: Alex Allan, Steve Boyd, Emililano Ron, Hristina Šormaz, Alexa Schonenberger etc. She performs with the groups Fourklour, Image Snatchers, FEM TV, Moje Prav(lj)ice, Cirkusarna NaokRog, other project groups and individually.
Her (short) solo acts include: Niti (contemporary circus performance, 30′), Tango demolition (site specific aerial silk performance, 20'), Square (aerial rope act, music: Veronika Valdes,12'), Dreams (aerial rope act, Sigur Ros – Fjogur Piano, 12'), Janez Blond (vertical dance act, 6'), I have to (aerial rope performance, 15').
She is a cofounder of Feminist Choir Z'borke and circus training and performing space Cirkusarna NaokRog (AF Rog), where she lead regular aerial silks workshops and organises cycle of DIY cabarets: Feminism is not a joke! every month. Her interest is engaged circus arts, specially feminism and connection of different artistic expresions.