Tony Prav: Tanken – Five Windows Into The Future
Tony Prav: Tanken – Five Windows Into The Future
(8. 7. 2016 – 16. 7. 2016)
Tony Prav's exhibition titled Tanken – Five Windows into the Future presents five moving images, videos in five windows that are actually what constitutes Gallery Night display Pešak (Nočna izložba Pešak).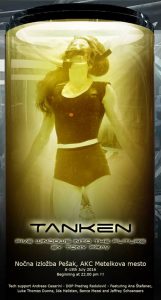 It is the artist's second exhibition in Ljubljana, one of his favorite creative spots (wherever he goes the creativity goes with him and leaves traces of it along the way). First one was held in Prulček, Ljubljana where he was presenting his paintings and as it is the case with the artist, he is tightly connected with many forms of art as in the case: video and performance. At the occasion he held a lecture on creativity that turned into a performance. His creative genius or dæmon showed up in the middle of the presentation as an ancient Greek person that looks like him. In a way that was the story behind the creation of paintings and if we go further, all of the art work.
With the exhibition in the Gallery Nočna izložba Pešak, where we can see five moving bodies in five windows, the artist made a small performance. It was part of the narrative of the exhibition which on one hand I would describe as a sci-fi and horror story, and on the other hand an embodiment of the beauty of movement.
On Friday 8th of July 2016, a little after 10pm, an old gray-bearded man appeared. He was wearing a white doctor coat, looking like an old professor that just left his laboratory for this special occasion. He was accompanied by a woman with long ginger hair and intensive eyebrows of the same color, a nurse. They seemed real and surreal at the same time as two characters that have come to life from a comic book or film.
The professor had a short public presentation of his recent work; he was talking about five subjects that he himself created in tanks filled with liquid, five bodies, human-like creations[1] awoken by waves of electrical shocks. Along the presentation we could watch how each window revealed each specimen one after another in tanks behind the windows.
The spectator is amazed and at the same time petrified by the professor's words and results of the experiment. We were left wondering what kind of motives did drive the professor to create "super humans". Did the experiment fail? Or even worse – was it a success? Who knows what kind of beings he has already created. It does make you wonder if such beings are already among us, even in the crowd that witnessed the actual presentation.
Anabel Černohorski
Thank you Andreas Cesarini for your expert data skills. Thank you Predrag Radulović for your unquestionable support in my deranged projects. Thank you Ana Stefanec, Luke Thomas Dunne, Ida Hellsten, Bence Mezei and Jeffrey Schoenaers for your bodily inspiration and hunger for creativity. Thank you Anabel Černohorski and Nataša Serec for your support and thank you Nejc Zamernik for keeping me grounded with your weights.
Tony Prav